Long Planting Journey with One Heart and One Mind —— Re-visit to Alxa by 3TREES Green Ambassadors
2019.03.25
Category:
News
It's another warm spring in which everything is stirring and sprouting in March, when 3TREES's green ambassadors from all over the country are about to act again!

Alxa is the westernmost part of Inner Mongolia Autonomous Region, China where there are three deserts: Badain Jaran, Tengger, Ulan Buh, which are arid and dry, and where an 800 km of saxaul forests have been seriously damaged and degraded. So the green ambassadors of 3TREES have been visiting Alxa to plant saxaul trees and guard the greenery in the deserts ever since 2017.
"Long Planting Journey with One Heart and One Mind", such a gigantic effort of 3TREES will send 3TREES's green ambassadors on yet another journey to the Saxaul Forests in Alxa for a thousand miles for tree planting in spring on March 28, 2019, when the consumers, partners, employees and other public welfare enthusiasts will gather in Alxa from all corners of the country to plant saxaul trees with their hands.
Since the first saxaul forest was planted in Alxa in March 2016, more than 1.5 million saxaul trees have been planted by 3TREES, creating a green barrier in Alxa-Tengger Desert, saving nearly 10 million ㎡ of deserts.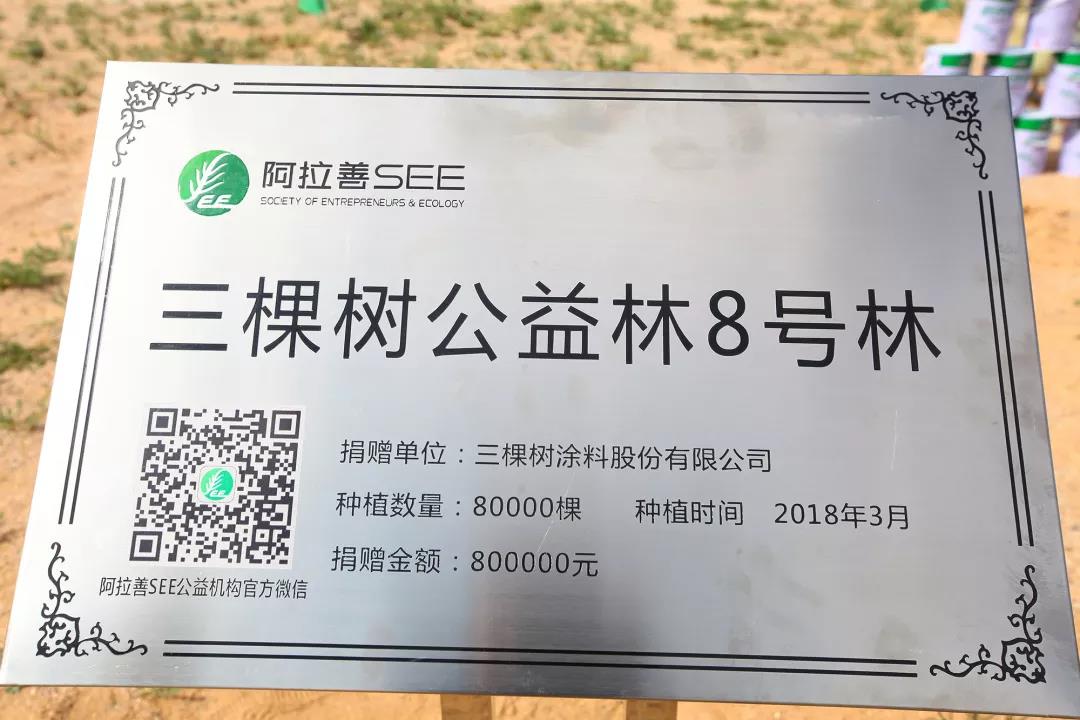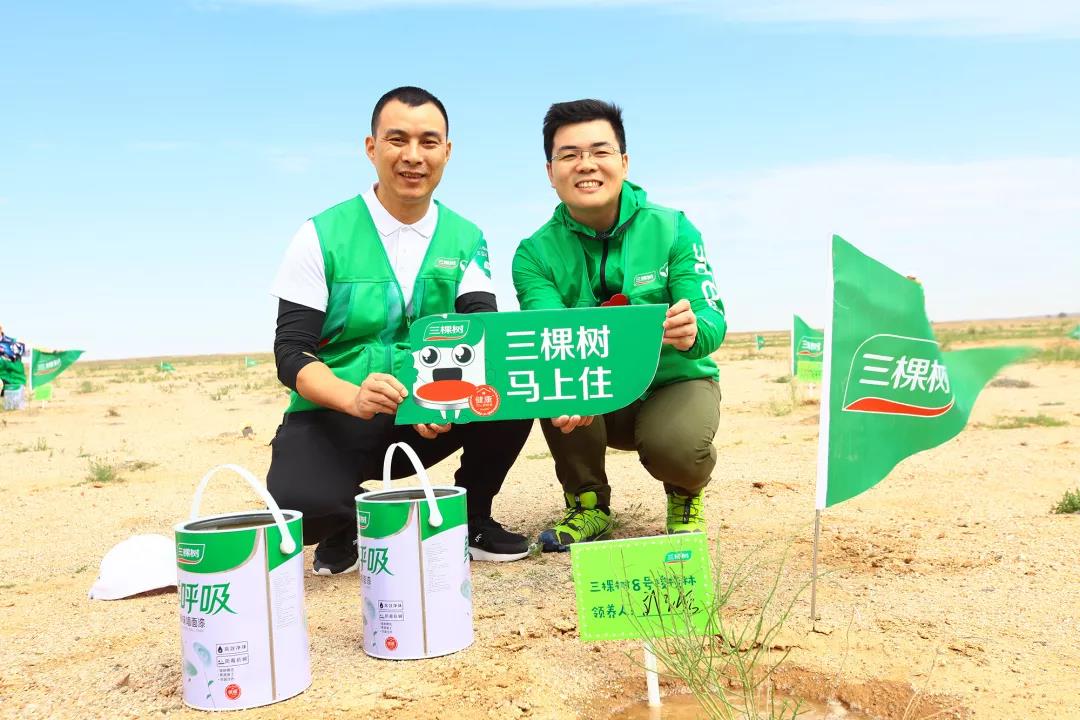 Every year, 3TREES jointly stages a series of public welfare events online and offline through innovative models such as "Internet plus Public Welfare", and selects a group of lucky consumers who are enthusiastic about public welfare from the general public. In addition, the selection of public welfare stars will be carried out within the enterprise, and employees and partners who have made great contributions to public welfare undertakings will be chosen to form teams of 3TREES's green ambassadors on journeys for greater contributions to public welfare.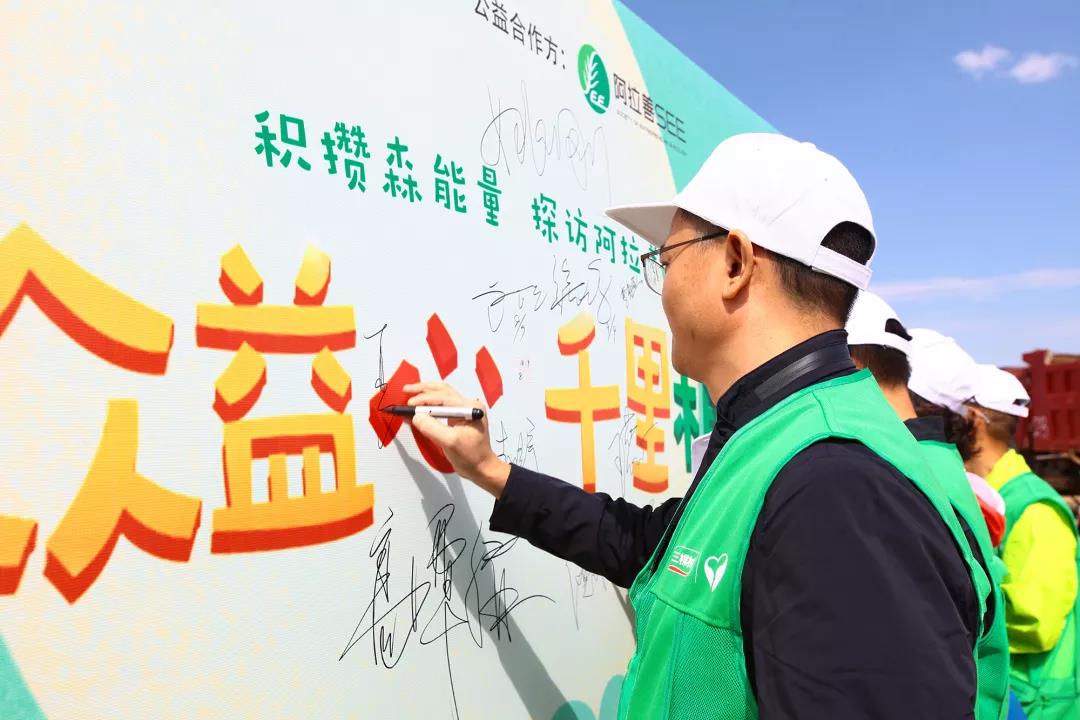 The green ambassadors will conduct a series of activities such as spring planting, watering, removing weeds, and awarding of medals of honor while guarding the desert oases in person and experiencing the natural landscape and customs of Alxa this year in Alxa. Thus 3TREES hopes that these activities could attract more public welfare enthusiasts from all walks of life to join the team of 3TREES green ambassadors, engage more people in the cause of ecological protection, build an ecological barrier against desertification, and add some greenery to the world.
While continuously taking the road of high-quality green development, 3TREES has not only provided users with green products, touch-the-heart services and a green supply chain, but has also been actively fulfilling her social responsibilities and participating in environmental protection.
3TREES has put environmental protection as her bottom line, and the first large-scale public welfare event that it participated in was in that regard. From the "Mother River Protection" campaign, "China Fresh Breath Charity Tour ", "National Air Quality Concern Campaign" and "White Paper on Air Quality of New Houses in China" to the series of public welfare actions to improve the environment in Alxa, 3TREES has mobilized a large number of its consumers, partners and people from all walks of life into attention to environmental health and protection.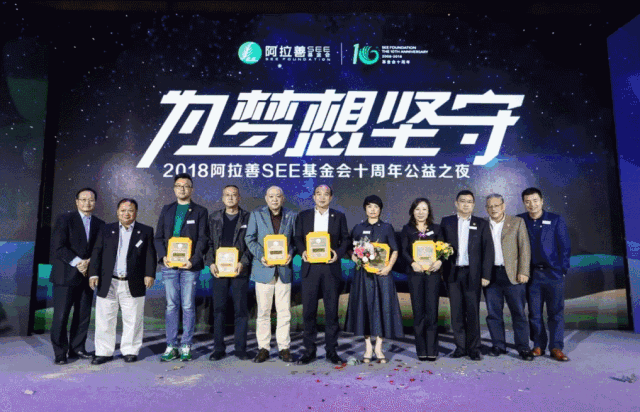 We have been working hard to protect green mountains and clear waters to build a beautiful homeland.