Category: Emulsion Paint-Interior Wall Primer
Return to list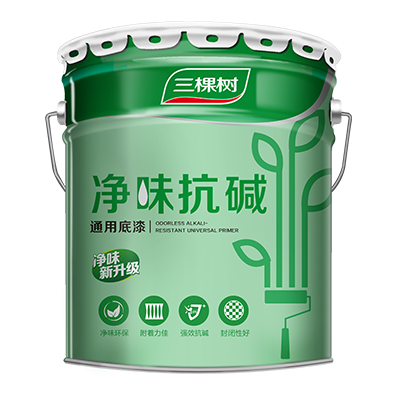 Odorless Alkali-Resistant Universal Primer
The 3TREES Odorless Alkali-Resistant Universal Primer is a general interior wall primer made from superior raw materials, adopting an odorless formula.
The product has multiple functions, including strong alkali resistance, high adhesion, good sealing property and substrate reinforcement. It can provide in-depth wall protection and effectively avoid such common wall problems as peeling off, efflorescence and yellowing caused by substrate alkalinity. In addition, the product is easy to apply, with large coating area and good compatibility with topcoat. All these can help to improve topcoat fullness and uniformity and help you pursue a better life of high quality.
Tel:+86 0594 2761989
Certification
Product Profile
The 3TREES Odorless Alkali-Resistant Universal Primer has a strong anti-fungus function and can effectively resist mold breeding. It also has the advantages of strong alkali resistance, good sealing property, strong permeability and easy application, and can play multiple roles such as sealing the substrate, strengthening the wall surface and improving topcoat adhesion, which can reduce common wall problems such as mildew spots, peeling off, efflorescence and yellowing.Odorless and free from added formaldehyde and benzene substances, the product is easy to apply, with large coating area and good compatibility with topcoat. This helps to save the amount of topcoat usage and make it easy for you to create a clean and bright home environment.
Scope of Application
Product use: It is widely used in the interior wall decoration and protection of villas, hotels, hospitals, schools, office buildings and homes.
Product Nature
Main ingredients: Water, pigment, filler, emulsion and auxiliaries.
Product Features
Super Healthy, Super Caring
China Environmental Labelling Product Certification

Odorless
No additives
Practical Functions, In-Depth Protection
High anti-fungus performance
Strong resistance to alkali
Odorless and environmental-friendly
Good permeability
Excellent sealing
Easier application
Product Description
No additives: Free from artificial addition of Formaldehyde and benzene substances (benzene, toluene, ethylbenzene, and xylene)
Application
Application instructions: The surface must be clean, dry, neutral, flat, and free of floating ash, oil stains and foreign substances. Water-leaking positions must undergo waterproof treatment. Before coating, the surface should be polished and leveled to ensure that the surface humidity of the pre-coated substrate is <10% and the pH value is <10.

Application conditions: Wall temperature ≥ 5 ℃, humidity ≤ 85%, well-ventilated.
Application method: Brushing, rolling, or spraying.
Dilution ratio: Dilute with clean water. It is recommended that the dilution ratio should not exceed 20% (weight ratio).
Theoretical paint consumption: 12-14m2/L/round (paint film is calculated as 30μm, and actual consumption varies slightly with substrate roughness and porosity).
Recoating duration: Surface drying 30-60 minutes, and recoating interval between the product and topcoat 2-3 hours (which may be duly extended under low-temperature and high-humidity conditions)
Maintenance time: 7 days / 25℃, which may be duly extended under low-temperature, high-humidity conditions to obtain a solid film effect. In the process of paint film maintenance and daily use, it is suggested that doors and windows should be closed for dehumidification in high humidity weather (such as Wet Spring and Plum Rain).
Substrate Treatment:
New wall: Thoroughly remove surface dust, oil stains and loose plaster, etc., and repair any holes to ensure that the wall surface is clean, dry and smooth.

Re-painting wall: Thoroughly remove the original paint film and putty layer, clean surface dust, and level, polish, clean and thoroughly dry the surface, so as to avoid problems left over from the old wall (odor, mildew, etc.) affecting the application effect.
*Before coating, the substrate should be checked; coating can only start after the substrate passes acceptance inspection.
Coating System:
Substrate treatment (3TREES substrate treatment product series) - primer (Odorless Alkali-Resistant Universal Primer) - apply 1 round - topcoat (3TREES Odorless Wall Paint) – apply 2 rounds
Tool Cleaning:
After or between applications, please clean the tools with clean water in time so as to prolong tool life.
The packaging bucket can be recycled after cleaning, and packaging waste may be recycled for reuse.
Attention
This product should be sealed and stored at 0-40℃ in a cool and dry place and away from exposure to the sun.

Refer to the product label for production date, batch number and expiration date.