Category: Adhesive-Dry Hanging Glue
Return to list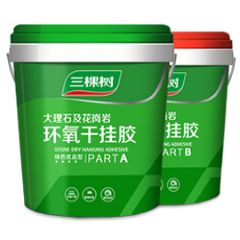 3TREES Epoxy Dry Hanging Structural Adhesive (Superior)
For decorative projects and stone processing, stone dry hanging, old wall renovating without cutting
Tel:+86 0594 2761989
Scope of Application
For decorative projects and stone processing, stone dry hanging, old wall renovating without cutting
Product Features
Easily mixable, highly adhesive, no stone pollution
Application Instructions
Make sure the substrate surface is dry, clean, and free of oil or stain. A surface too smooth should be roughened first.

According to the amount needed, take out A, B components (weight ratio 1:1), mix them on a flat board until the color is even. Once mixed, the glue shall be applied within 15 minutes.

Avoid moving the parts before complete solidification. No weightbearing at primary solidification stage.
Standard
JC887-2001 Epoxy Adhesives for Dry-Fixing Stone Curtain Wall
Expiration Date
This product can be stored for 12 months in a cool, dry place, at 5-30°C.
Attention
It must be mixed strictly according to the proportion, to avoid incomplete solidification or over crispness. The primary solidification time (at 25℃) is 30-60 minutes. Complete solidification and designed strength come in 24 hours.

For stone pieces or tiles larger than 1.2m, steel parts must be used in dry hanging. Structural adhesive can only be used as an aid.

Application temperature shall be at 4-60℃. Slight sagging can be expected when above 45℃.

Have an adhesion trial before formal use to ensure satisfaction.