3TREES's 14 Healthy Products Pass the American GREENGUARD Gold Certification
2018.05.18
Category:
News
Good news came recently, as 14 healthy products of 3TREES have passed the GREENGUARD Gold Certification, showing that 3TREES products have made a new breakthrough in health performance of international authoritative recognition.
GREENGUARD Certification
GREENGUARD certification is internationally recognized as one of the most stringent and comprehensive air quality certification standards for indoor products (including building materials, decorative materials, furniture, floor materials, surface materials, paints and coatings, detergents and children's products, etc.) that has been recognized by nearly 500 sustainable development projects around the world including LEED (Leadership in Energy and Environmental Design) with a globally recognized authority in indoor air quality monitoring and certification.
As the first coating enterprise in China to put forward the concept of "healthy paints", 3TREES has always been holding "green, healthy and environmental protection" as the orientation which runs through its development and future.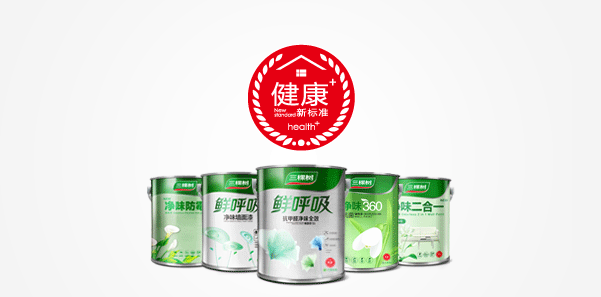 3TREES has been committed to the R&D and production of healthy products, and has continuously upgraded its standards of health and environmental protection over the years, and worked out five new industrial standards of Health+ in 2016 and launched a series of Health+ products, starting with five major health indicators: "volatile organic compounds (VOC), free formaldehyde, benzene series, heavy metals and odors", which marked an ingenious leap in healthy products and have boosted the transformation and upgrading of the entire coating industry, and 3TREES has upgraded and improved the original Health+ products many times since then, providing society with ultimate healthy products.
Gold Certification
In the certification, 3TREES, taking her Health+ series products as a breakthrough starter, carried out screening and comprehensive optimization and upgrading of the selected materials before finally, 14 products, namely, Kids Paint, Fresh Breath Anti-Formaldehyde Odorless Full Effect Wall Paint, Fresh and Odorless Wall Paint, Odorless 360 Antibacteria Wall Paint, Odorless Moistureproof Wall Paint, Odorless Advanced Hiding Power Wall Paint, Odorless Mouldproof Wall Paint, Odorless 2-in-1 Wall Paint, Fresh Breath Odorless All-in-1 Primer, Fresh Breath Odorless Soft-light Wall Paint, Odorless Mildew-proof Soft-light Wall Paint, Fresh Breath Bamboo Charcoal Odorless Five-in-one Wall Paint, and Wedding Wall Paint.
Winning the honor marked yet another milestone in its progress to higher quality and more environment-friendliness, and 3TREES shall continue to make exertions on healthy and environmentally friendly coatings, devote itself to healthy products, increase investment in environmental research, and lead the coating industry to higher levels of environmental protection so as to make homes healthier and cities more beautiful.