3TREES Among the National "Green Factories"
2018.02.25
Category:
News
The list of the 2nd batch of green manufacturing demonstrators was announced by the Ministry of Industry and Information Technology officially on February 23, 2018, among which SKSHU Paint Co., Ltd. was gloriously included and ranked high among the national "green factories" which marked yet another occasion for its recognition of greater national authority after being awarded the first batch of green factories in the petroleum and chemical industries level. The "Enterprise of Intoxicating Beauty" amazed China once again!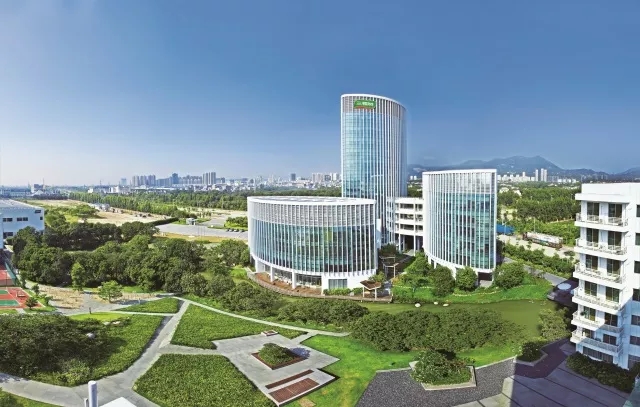 3TREES Headquarters Eco-industrial Park
The establishment of green factories, as a key element for building a green manufacturing system in China, is the major task for carrying out green manufacturing projects. And the selection of national green factories was aimed at setting up a number of advanced models in green manufacturing, leading the green transformation of industries in related fields, thereby enacting high standards for the infrastructure, management system, energy input, environmental emissions and other indicators of the candidate enterprises. And after being selected by the municipal, provincial and relevant units of the State Council, 208 green factories were finally chosen nationwide, including 30 chemical enterprises, when 3TREES was decided on as the advanced model of the coating industry.
Being honored as a national "green factory" marks a high recognition of 3TREES's persistence in green growth for many years and is a spur for 3TREES to further promote industrial transformation and upgrading and enhance green recycling and low-carbon development, which will further strengthen its determination on the road of green manufacturing.
3TREES Sichuan Eco-industrial Park
3TREES has always acted on the notion of "union between man and nature", pushing for harmony between the two while setting a benchmark for green manufacturing in the whole industry. It's our belief that a beautiful China should start from beautiful enterprises, and so her eco-industrial park at the headquarters has preserved the original ecological landscape which had been there for hundreds of years featuring the chirps and twitters of birds and the sounds of machines resonating in harmony as it is known as an "enterprise of intoxicating beauty". Moreover, the company has always given priority to environmental protection as regards her development strategy. So at all of its major production bases advanced, highly efficient and energy-saving technologies and equipment in strict accordance with the national environmental protection requirements are in place, and a perfect green manufacturing system is installed to ensure the discharge of waste gas, wastewater and various wastes against scientific standards without any environmental protection burden added to society and the surrounding areas of the factory, and zero pollution has been achieved in the whole processes from production to use.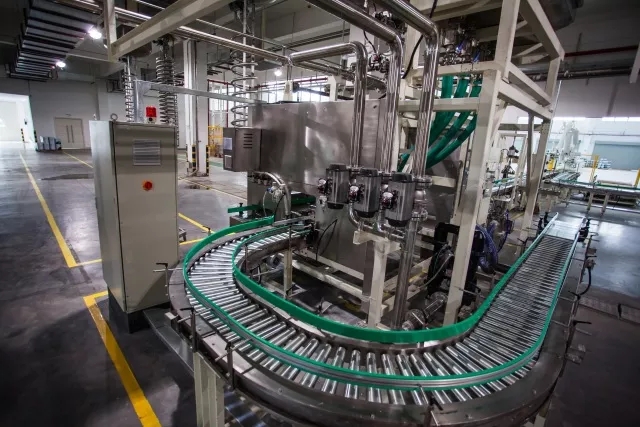 Internationally leading automatic and intelligent cans filling system
3TREES has laid emphasis on not only concepts of green R&D and production, but also greenness and environmental protection throughout all the components and processes in the whole supply chain to ensure that the requirements on the ecologically-friendly supply chain are met. And during selection of suppliers and partners it requires that they qualify in terms of the national environmental protection standards in an effort to ensure that the production and delivery on the whole supply chain are green, environmentally friendly and low in energy consumption and compliant with the requirements of laws and regulations.
Internationally leading full-automatic robot bucket stacking machine
3TREES can achieve the best costs and most timely supply in addition to improved competitiveness of products and ensured quality. To that end it has been making full use of modern information technology (SAP) and automation technology (MES) to achieve fast, effective and personalized product supply by taking the big data management platform as the informative support, establishing scientific production models, building an information-based, intelligent and visual supply chain management platform, and digitalizing and intellectualizing the supply, and manufacturing and sales information in production on the requirements of C2M. As a result an intelligent ecological supply chain that is "great, fast, good and economical" has been built, lean and intelligent manufacturing has been conducted through intelligent means, and one-stop products and services has been realized through intelligent factories and intelligent production, rational allocation of multiple production bases, cooperative factory layout and regional warehouse distribution centers in China. As a result it has become one of the first enterprises in China that have passed the certification of integrated management system as well as the only enterprise in the coating industry that has passed the certification.
3TREES was the first to have passed ISO14001 environmental management system certification and China Environmental Labeling product certification in the industry, and many of its products are on the List of Green Products for Government Procurement. In addition, 3TREES also takes an active part in the formulation of national, group- and enterprise-wide green product standards, in an effort to develop industry-leading ultimately healthy products, heat reflective coatings, radiation curable coatings, water-based industrial coatings, haze-removing coatings and aldehyde-removing coatings, and to continuously upgrade itself to provide consumers with ecologically friendly products of the best quality.
In awe of nature, 3TREES shall continue on the road of green growth, leading green standards, intelligent green products and green industrial chains as an enterprise of intoxicating beauty for a green world.