3TREES Donates RMB10 Million for Fight Against COVID-19 in Wuhan!
2020.01.27
Category:
News
Recently, the outbreak of the COVID-19 pandemic has touched the hearts of people all over the country. As a caring enterprise, 3TREES has closely followed the development of the situation and acted quickly to join the fight against the pandemic. To support Wuhan's efforts to contain the disease, 3TREES immediately started its emergency decision process and decided to donate RMB10 million to Fujian Society for Promotion of the Guangcai Program, which will be transferred to the relevant department in Wuhan.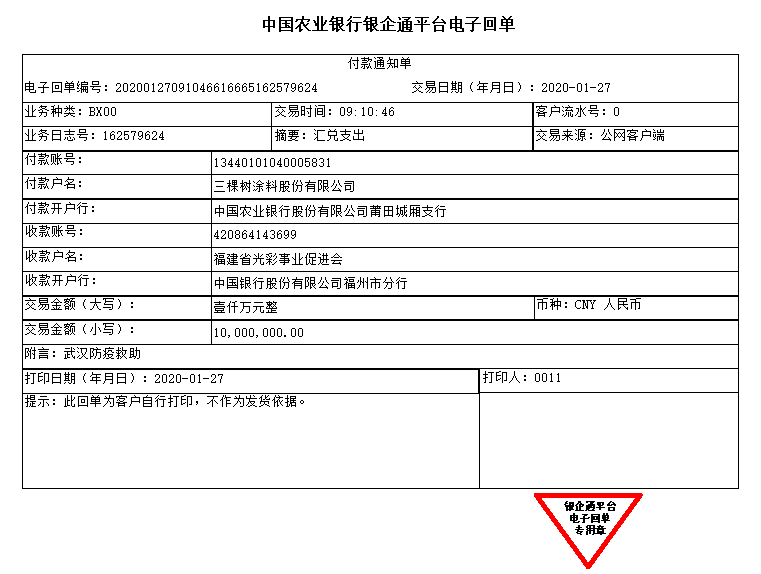 Mr. Hong Jie, a deputy to the National People's Congress and Chairman and President of SKSHU Paint Co., Ltd., said that 3TREES saluted people of the whole country, especially medical workers, for their concerted efforts to fight the pandemic. He vowed that 3TREES would do its uttermost to provide help and support for epidemic prevention and control.

The Spring Festival is the most traditional festival for Chinese people to celebrate family reunions. For the sake of people's health, however, many medical staff have given up reunion with their families and instead gone to the front line to fight the COVID-19 pandemic. In front of the grave situation, they have bravely stood out to treat patients. Their touching stories have added extra sentiment and strength to the 2020 Spring Festival.
Natural disasters are harsh, but there is love in people's hearts. 3TREES will closely follow the situation, actively shoulder its corporate social responsibility and carry forward the spirit of love and care. It will also pool the strengths of its enterprises, partners and employees to fight the pandemic and provide more help to medical workers who are fighting on the front line.
At the same time, 3TREES will firmly implement relevant government requirements, make effective arrangements for its epidemic prevention and control, ensure sound work and measures, and united with the people of the whole country to overcome the difficulties together with Wuhan and win the battle against COVID-19.