Donating 1 Million Saxaul Seedlings, 3TREES Partners up with Alipay Ant Forest to Explore New Mode of Internet Plus Charity
2019.09.29
Category:
News
Protecting the ecology is the responsibility of each of us. We need start with ourselves. Protecting the blue sky, green land and clear waters is also the green responsibility of each enterprise.
Donating 1 million saxaul seedlings and building beautiful China, 3TRRES is in action.
3TREES has donated 1 million saxaul seedlings for Alxa. Users can collect the donated seedlings online after they have collected 17,900g of green energy and plant them in Alxa. 3TREES and the Alxa SEE Foundation will work together to complete offline planting and support desertification control work in the Alxa region.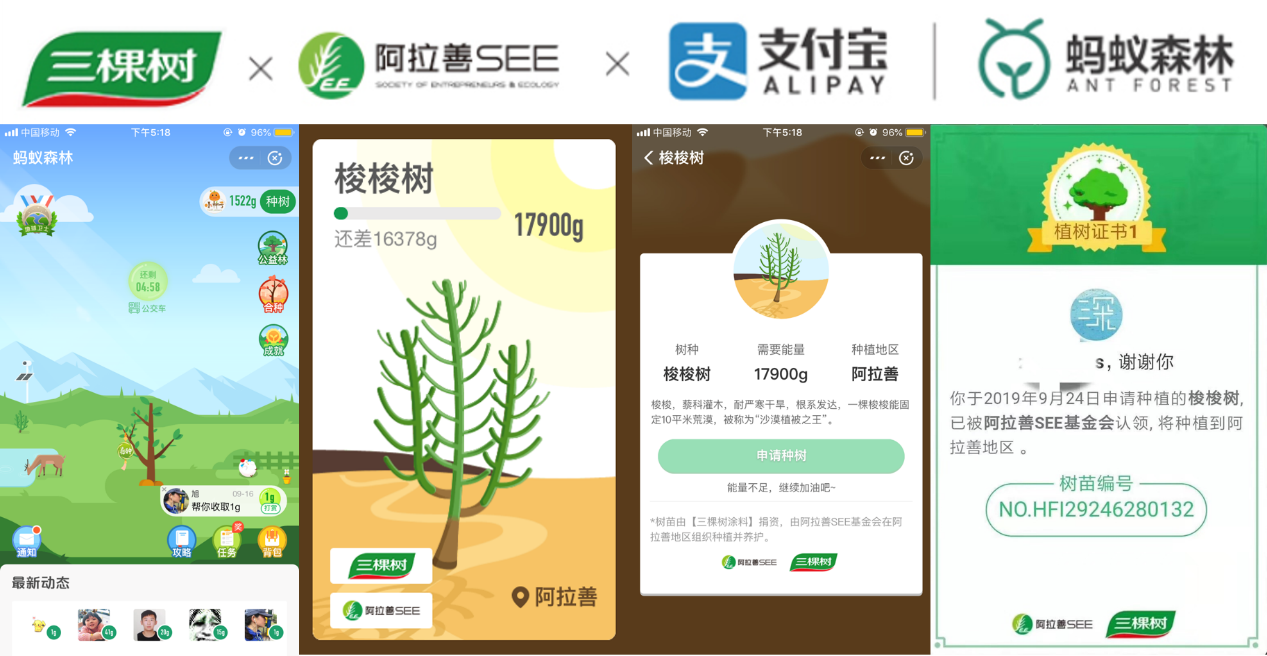 3TREES has joined hands with the Alxa SEE Foundation, an environmental charity in China, to support the public welfare project to plant 100 million saxaul trees in Alxa, which is a seriously desertified region in the country. The 3TREES Public Welfare Foundation has promised to donate RMB50 million to Alxa SEE within 10 years to improve and protect the ecological environment in Alxa. So far, more than 2.05 million saxaul seedlings have been donated.
3TREES Explores New Mode of Internet Plus Charity for the First Times
3TREES is never afraid of starting from scratch. What it fears most is that one never starts. It believes in the power of "Start Is Great". For its part, Ant forest encourages users to stick to low-carbon lifestyles and change themselves. The two sides share the same ideas and values on "green, low-carbon, recycling and sustainability", which make them partners for the charity cause. On the homepage of its official website, Ant Forest displays 3TREES's corporate image and encourages more enterprises to join the ranks of environmental protectors like 3TREES.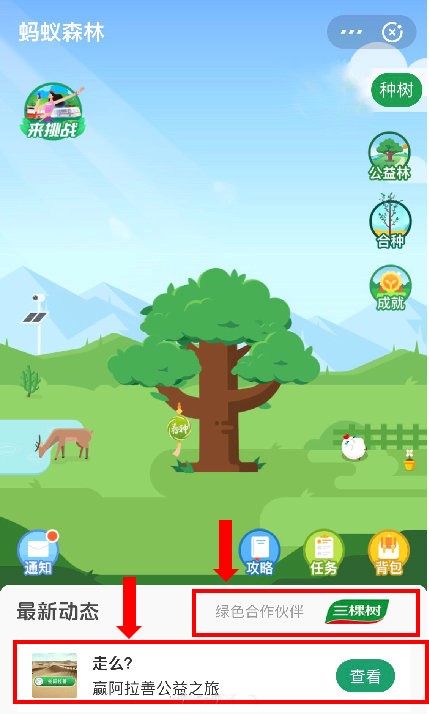 On the first day when 3TREES launched its online tree planting scheme, Ant Forest pushed a post titled Shall We Go Now? Win a Public Welfare Trip to Alxa, which argues that today's young people should free themselves of the constraint of traditional ideas, take more social responsibilities in their own ways and contribute their personal strength to the public welfare cause. The post aroused heated discussions and responses among Ant Forest's young users. On the same day, the 3TREES Public Welfare Forest also topped the public welfare tree ranking list for the first time.
Connecting online and offline efforts, let's plant trees not grass
In this public welfare event, 3TREES interacted with the Tmall Home Decoration Festival and dealers of 1,000 stores in 100 cities to become "green gathers". With concrete action, 3TREES supported the public welfare forest watering event and cheered for the public welfare cause with its green energy.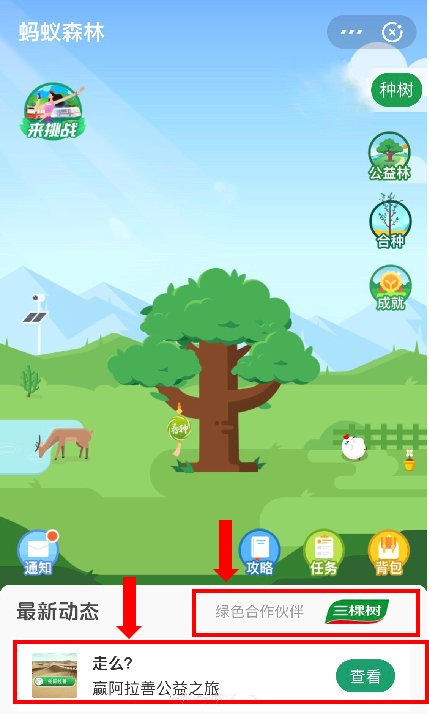 Since its founding, 3TREES has not only put its focus on its own economic benefits, but also on the maximization of social value. On the one hand, it has worked to protect and create a better natural and living environment for mankind. On the other hand, it has maximally repaid society and advocated that enterprises should make their due contributions to environmental health, social progress, benign industry development and human health.
Since 2017, 3TREES has organized the Long Planting Journey with One Heart and One Mind, leading charity enthusiasts from all walks of life to plant trees in Alxa. In the past three years, the saxaul trees planted by 3TRRES' charity ambassadors created dots of green in the vast desert. 3TREES firmly believes in the power of "Start Is Great". In the future, it will continue to actively shoulder its corporate social responsibility, and plant beautiful, beneficial and dream trees for society.