3TREES Ranks Among "First Batch of Most Influential Enterprises in Building Beautiful Countryside"
2018.11.13
Category:
News
Recently, SKSHU Paint Co., Ltd. was awarded the title of "One of the First Batch of Most Influential Enterprises in Building Beautiful Countryside" at the "Great Country, Wisdom China Model" National Precision Poverty Alleviation Achievement Experience Exchange Conference sponsored by China Internet News Center and People's Daily "China City News" after expert review, online publicity and public opinion analysis.
Facing the new situation for poverty alleviation with precision, 3TREES has been thinking about how to give full play to the advantages of private enterprises, believing that in order to make new progress in ridding poverty, the key is to solve the problem of "two instances of enlivening": one is to "enliven resources", where enterprises should make full use of and revitalize local resources; the other is to "make the brain alive" as poverty alleviation should be practised in combination with support for the ambitions and wisdom of the poor so that enterprises should bring business ideas, management and cultural concepts into poverty-stricken areas for true eradication of poverty.
3TREES has gradually sought out a win-win path of precise poverty alleviation and enterprise development in recent years through practice, and in the precise poverty alleviation action of "100 Enterprises Helping 100 Villages" in Fujian Province, 3TREES has been linked up with three provincial- and municipal-level poverty-stricken villages in Putian City, and have helped the villages establish a sustainable "blood-making" path of growth through industrial development and donations, which have brought about considerable results.
Huating Town, Putian, Fujian Province, where Wuyun Village is located, is rich in longan, and once had the reputation of "Xinghua Longan is the best in the world". In order to revitalize this characteristic industry and help the farmers to generate income, 3TREES carried out industrial poverty alleviation where Chairman Hong Jie personally funded the registration and establishment of "Tiangui (Fujian) Food Co., Ltd." And a mixed limited liability company was jointly established with local state-owned enterprises with the support of the municipal government, and the existing scattered and miscellaneous plantations were organized. Also, through land transfer, after the products went on the market at the end of 2017, the market price increased from more than ten yuan per 500g to more than forty yuan, which greatly increased the income of the villagers in planting longan trees and spurred the enthusiasm of the villagers. Now the Wuyun Village Longan Industry Poverty Alleviation Project has a plan to produce RMB1 billion of the fruit in the future.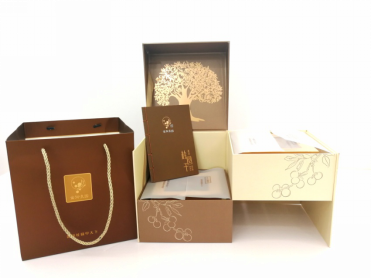 The Packaging Design of Dried Longan of Tiangui (Fujian) Food Co., Ltd.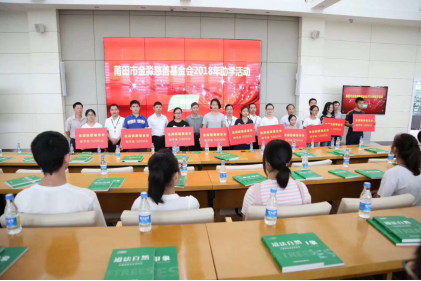 Putian Jinmiao Charity Foundation's 2018 Student Aid Event
3TREES painted the outer walls of Pinghu Village to help poverty alleviation through tourism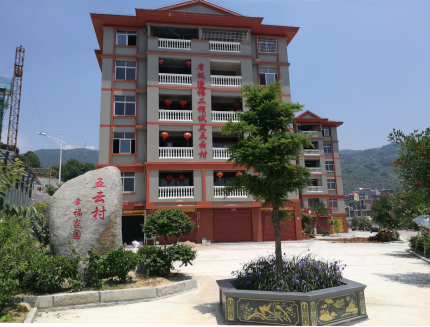 3TREES donated paints for Wuyun Village Happy Home Project to improve hardware construction
Besides helping the poor by starting industry, 3TREES also takes on the responsibility of improving the environment and the living conditions and driving the economic development of poverty-stricken areas. Since 2016, 3TREES has been donating money to Alxa SEE Ecological Association and planted 1 million saxaul trees in Alxa desert, which on the one hand prevented the spread of desert and protected the environment, and on the other hand helped herders to get rich by grafting Cistanche deserticola at the roots of saxaul trees, thus achieving both ecological and economic benefits.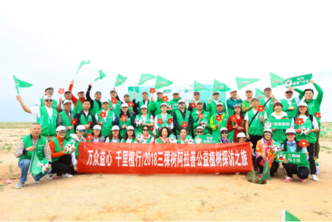 Long Planting Journey with One Heart And One Mind 2018 3TREES Alxa Public Welfare Tree Planting Tour
3TREES has been actively participating in public welfare undertakings, carrying out precise poverty alleviation, sending not only donations of love but also information, wisdom and confidence to help poor villages and poor people get rich, and giving full play to the resources of poor villages and the wisdom and platforms of enterprises through industrial poverty alleviation, so as to achieve a win-win situation of precise poverty alleviation and sustainable development for enterprises. And in the future, 3TREES will invest more resources in public welfare undertakings, help precise poverty alleviation and help poor people live a happy and beautiful life.