Green Innovation: 3TREES and Tongji University Establish the "3TREES Green Building Aesthetics Research Institute"
2018.05.08
Category:
News
3TREES and Tongji University (TU) announced recently their joint establishment of the industry's first green building aesthetics research institute---"3TREES Green Building Aesthetics Research Institute" when Professor Song Dexuan from College of Architecture and Urban Planning, TU and Mr. Lin Dedian, Vice President of 3TREES attended the signing ceremony. The occasion witnessed a historic handshake between 3TREES and Tongji University, and marked an alliance of the strong between a modern enterprise strong in green building materials and an institution of higher learning with fruitful scientific research achievements in the science and technology of green architecture.
Song Dexuan (left), professor at College of Architecture and Urban Planning, TU in a group photo with Lin Dedian (right), Vice President of SKSHU Paint Co., Ltd.
3TREES and Tongji University will carry out comprehensive cooperation, on the principles of "resource sharing, complementary advantages and coordinated development", in research for evaluation of green building materials, use of research results and popularization and application of technologies, to accelerate the development of green buildings and promote the transformation and upgrading of modern building industry.
Among the areas to be covered in the research focus will be on the applied research of emerging building materials featuring energy, land, water and material saving as well as environmental protection in the green building field. And the key foci will be on the application of thermal insulation materials and of integrated panels of thermal insulation and decoration for energy conservation for green buildings; evaluation of the effect of 3TREES's granite (colorful coatings) and texture coatings on material saving for green buildings; study on the performance of 3TREES decorative materials in improving indoor and outdoor air quality; and new building materials related to green buildings.
3TREES Green Building Aesthetics Research Institute Coming Into Being
It is clearly pointed out in the 13th Five-Year Plan for Building Energy Efficiency and Green Building Development released by the Ministry of Housing and Urban-Rural Development of China that the proportion of green buildings should exceed 50% in 2020. Judging from the overall market trend, the Chinese government's determination and policy in support of green buildings have reached a new height after the 13th Five-Year Plan period. At the same time, with the development of social economy, people's requirements for architectural paintings are no longer "simple whitewashing" and "three-stage decoration", but the ideals of quality living. Therefore, "green buildings" and "aesthetic painting" have come on the stage.
In response, 3TREES took the lead in setting up China's first green building aesthetics research institute as it is keenly aware that green materials are the key support for the reform and upgrading of the construction industry which cannot go without the R&D and innovation in science and technology underlying. And only by gathering top scientific researchers and global high-end wisdom could we overcome technical problems found in products, create high-end green materials, rapidly develop green buildings, and provide strong support by means of scientific research to the "green building aesthetics" as formulated by 3TREES Engineering.
Science and technology is the primary productive force
Once science and technology permeate and act on production, it becomes a realistic and direct productive force. So enterprises that have mastered innovative technologies could master the leading power in modern society. As the first brand of Chinese national coatings, 3TREES has always been highly insightful, sharp-eyed and forward-looking in technological innovations.
The company has been attaching great importance to technological innovations from the very start as we have established three R&D platforms, namely Post-Doctoral Research Center, Academician Experts Workstation, Nationally Recognized Enterprise Technological Center and CNAS, a nationally recognized laboratory, invested heavily in technological research and development, strengthened our technical teams, introduced high-end talents, and continuously promoted innovative research and development in new materials, technologies, products and models.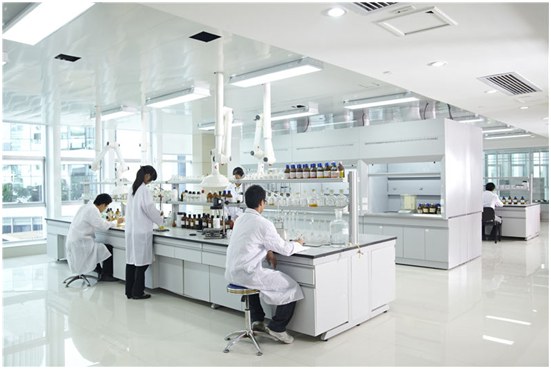 3TREES Testing Center
3TREES Engineering products, having been awarded more than 200 national patents, have solved many problems such as anti-pollution, weather resistance, low carbon and environmental protection for exterior walls.
A Top University Bringing Wisdom for Leadership
A top university is a pool of many experts, professors and outstanding talents, which are able to bring more wisdom in scientific research and innovation.
Tongji University is a top-notch seat of higher learning with a long history in the field of architectural design in China as one of the key universities for intensified development for being on the national "double first-class", "211 Project" and "985 Project"; it has turned out countless outstanding architectural designers, has made fruitful achievements in teaching and scientific research, and is also famous all over the world for a long time.
The cooperation in production, education and research with Tongji University will inject new vitality into the innovation of 3TREES in its products and technologies.
3TREES Engineering has grown into a systematic services provider comprising painting design, paints and coatings, heat preservation, waterproofing, floor coatings, and painting services after ten years of rapid development and management.
The alliance of the strong between the two parties is not only a response to the call and the trend of the times, but also an indication of 3TREES's EPD as a taker of its responsibility as the first-line brand in the industry, to create an open platform for empowerment, to inject a powerful force of wisdom into 3TREES, to bring forth wisdom as guidance to the Chinese architectural painting industry, to promote technological innovation and to achieve the transformation and upgrading of the industry!