New Products: 3TREES Engineering Releases 2018 " Beautiful Life Exquisite Decorations Series" for 8 Mainstream Home Decor Styles
2018.05.02
Category:
News
Running around on the market, supervising, learning design, comparing materials and bargaining for better prices...
Neighbors upstairs and downstairs making noise day and night, making one restless each day...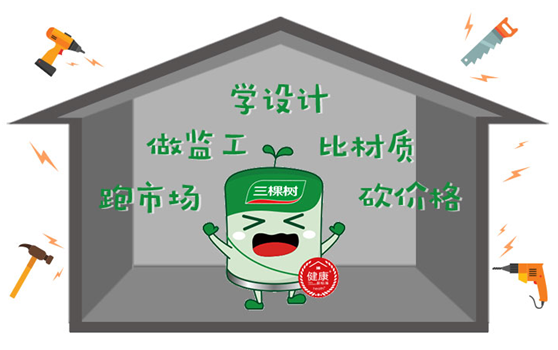 That's it!
Those are the troubles most people are in after buying an unfurnished house.
So...
More and more owners are eager to move in with bags only,
With their homes fully (and exquisitely) furnished and decorated in one step!
Say goodbye to unfurnished house, and wholly ready homes are coming
According to the White Paper on China's Home Complete Decoration and Design Trends in 2018 released by Life Master and Tencent Home, "the whole house being complete in decoration and design for the owner to move in with luggage only" accounts for 39.6% in the house buyers' choice of decoration methods, and among this group, 82.5% were born in the 1980s and 1990s. So it seems that young consumers prefer "whole and entire decoration and design".
In addition, the relevant government agencies of some provinces and cities have also issued the schedule and related policies concerning exquisite decoration, among which Zhejiang, Shanghai, Shandong and other provinces have issued the regulatory policy of "100% fine decoration", that is, the goal of 100% decoration and design by 2020. And Jiangsu, Beijing, Henan, Sichuan, Hainan and other places have worked out a schedule of countdown on the "unfurnished houses".
Here comes the time for wholly decorated and designed homes!
But do you really understand the style of decoration
that modern young people like?
3TREES Engineering Releases 2018 Trends of Decorative Styles,
To let you read the hearts of the young owners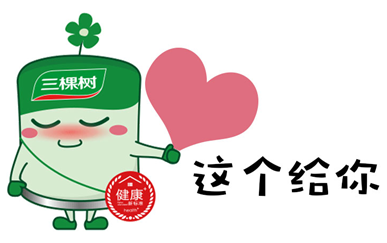 Eight Decorative Styles Ensure a Better Life
I. American style
Product recommended: 3TREES Diatom Mud Paint (Exquisite)
The American style, without much decoration and restraint, exudes charming and leisurely romance, which not only features the luxuriant and nobility of European style, but is also freed from more fetters while oozing a feeling of new nostalgia for cultural roots, which is high-brow without losing freedom and leisureliness.
3TREES Diatom Mud Paint (Exquisite)

American home style elements just cater to the lifestyle and cultural needs of young people today. And 3TREES Diatom Mud Paint (Exquisite) contains modeling sand, which can be shaped into various three-dimensional textures, and can be modulated into a variety of colors with special color packs, which better presents the characteristics of free and inclusive American style.
In addition, simple beauty gives priority to functionality. So 3TREES Diatom Mud Paint (Exquisite) adopts the fine diatom soil in Changbai Mountain characterizing excellent humidity control and noise reduction for a comfortable and quiet home environment. Also, the product is matched with a new type of active photocatalyst which efficiently remove harmful gases such as formaldehyde, purify indoor air and ensure a fresh and healthy indoor environment at all times.
II. Simple European style
Product recommended: 3TREES Perlaceo Art Paint
The simple and crude design style is loved by many people as living in a complicated and changeable world is always a constant cause for annoyance, but a simple and natural living space can bring people peace and comfort.

One could satisfy his/her yearning and pursuit for a leisurely life through deconstructed and reorganized interior space, so let us strike a balance amid the disturbances in real life toward a fascinating and leisured space.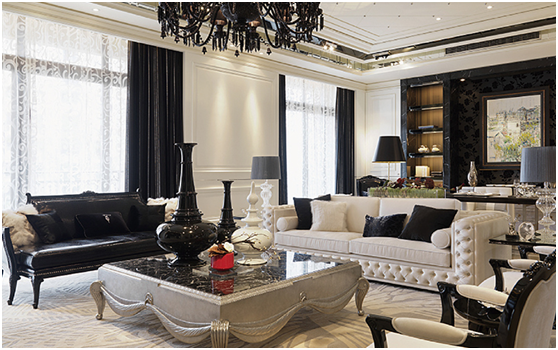 3TREES Perlaceo Art Paint
Decoration of simple European style is generally dominated by white before dark and light colors are used as auxiliary colors for a gorgeous feeling through contrast of colors.

3TREES Perlaceo Art Paint gives rise to colorful, changeable and dazzling effects, which could be made soft and elegant or thick and magnificent to meet the requirements of changes in the layers of colors with simple European style.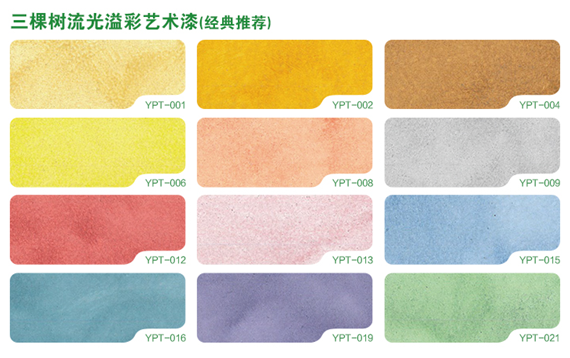 And house owners don't have to worry about not having their favorite colors or not having the right color mixture. With 3TREES Perlaceo Art Paint, different decorative colors could be made according to user preferences to give out either natural, casual or delicate colors through different application techniques. As a result, the decorative effect is natural and meaningful, enriching a home space with taste and art.
III. Modern style
Product recommended: 3TREES Elastic Coatings System
Modern style is a highly desired one for decoration at present which not only gives a strong sense of the urban, but is loved by young people also for its light and simple lines and fashionable designs. Moreover, simplicity is more romantic in style, so that the right space could be used to set off the owner's taste and temperament in life.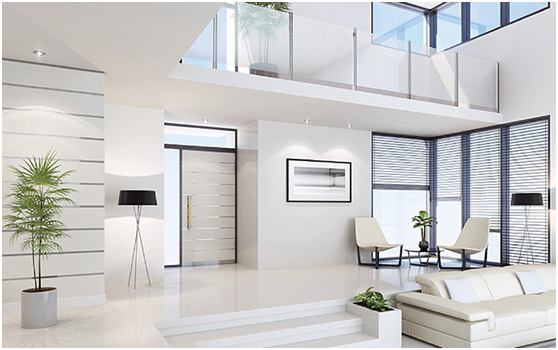 3TREES Elastic Coatings System
With modern styles internal and external transparency could be achieved which characterize simple modeling, pure texture and fine craftsmanship.
3TREES Elastic Coatings System is simple and bright in color, with their effect brought about by relief and flower drawing is eclectic and not too complicated measuring up to a sense of avant-garde and unrestrained fashion as found in modern style.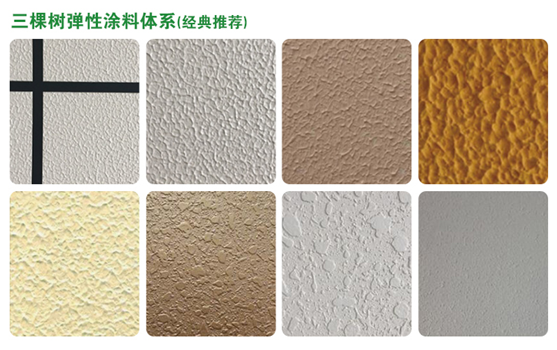 Modern decorative style is simple but not naive as starting from pragmatism it pays attention to the taste for life and to higher efficiency and practicality.
3TREES Elastic Coatings System characterizes good resistance to scrubbing and washing, being able to cover up tiny cracks in walls, and its elastic elongation meets the requirements of national standards, thus reducing the cost of application.
IV. Neoclassical style
Product recommended: 3TREES Diatom Mud Paint (Sleek)
Elegance and harmony are synonymous with neoclassical style which features "the scattered form with gathered spirit". This style pays attention to decorative effect while restoring classical temperament with modern techniques and materials. It features both luxury, elegance and fashion and reflects the individualized aesthetics and taste in the post-industrial era.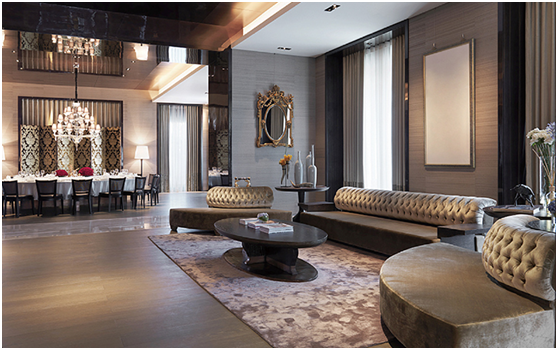 3TREES Diatom Mud Paint (Sleek)
White, gold, yellow and dark red are the main colors in neoclassical style, with a little white blended.
3TREES Diatom Mud Paint (Sleek) features bright and bold colors with delicate feel to the touch, and could be modeled into rich textures with tools such as plastering trowels, toothed scraper and spray gun. With its classical luxury and modern simplicity, it is cool and elegant, giving expression to the extraordinary magnanimity of open and tolerant space.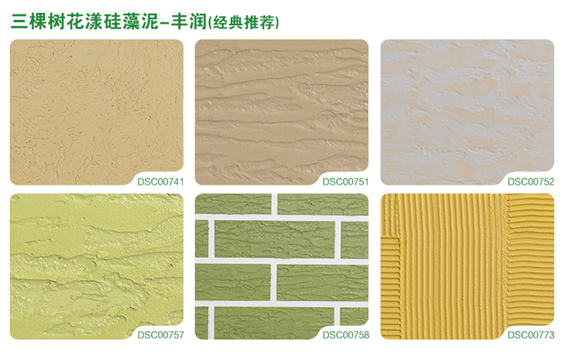 On the other hand, neoclassical style is a diversified way of thinking, which not only oozes the romantic feelings of nostalgia, but also meets the needs of people for a better life.
3TREES Diatom Mud Paint (Sleek), made from refined diatom soil in Changbai Mountain area, effectively adjusts air humidity, reduces environmental noise and is excellent for heat insulation, creating a comfortable and quiet home. Moreover, it could be modeled into various shapes and is easy to clean. Also, the product is matched with a new type of active photocatalyst to purify indoor air and keep a fresh and healthy home environment.
V. New Chinese style
Product recommended: 3TREES Silk Rainbow Art Paint
Chinese elements and modern materials are ingeniously combined and soft, and the furniture of Tang and Song Dynasties, the window grilles of Ming and Qing Dynasties and cloth bed products complement and set off each other to restore the exquisite historical items featuring changing scenes at moving steps.
It inherits the essence of the home concept in Ming and Qing Dynasties while refining and enriching the classic elements and injects a new breath into the traditional home culture. And in the overall home design, it not only has the traditional charm of Chinese homes, but also conforms to a greater degree to the characteristics of modern people's living, so that the classical and modern styles are perfectly combined, and the tradition and contemporary fashion mingle.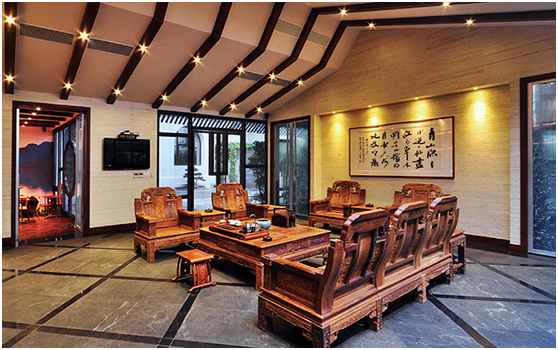 Furniture of new Chinese style is mainly dark, so special emphasis is placed on the color ratio on the surface of the wall. And black and white is the most classical mixture widely used on ancient Chinese architecture. However, black and white used entirely will inevitably lead to aesthetic and visual fatigue. Therefore, many people like to add some favorite colors to black and white in recent years.
3TREES Silk Rainbow Art Paint
3TREES Silk Rainbow Art Paint is a special material with rainbow-like effect on the surface of the interior wall with a wide variety of colors to meet various requirements on color matching of the new Chinese style.
The "newness" of the new Chinese style is also reflected in the combination of the comfort and functionality characteristic of modern urban homes while retaining the elegance and subtlety of ancient furniture.
3TREES Silk Rainbow Art Paint provides walls with delicate silky smooth hand feel and rainbow-like dreamy luster. It also features long-lasting color retention, easy application and excellent water-based environmental protection.
VI. Southeast Asian style
Products recommended: 3TREES Granite Art Paint and 3TREES Simulated Holey Stone Art Paint
Southeast Asian style is a home design style combining the characteristics of Southeast Asian national islands and their exquisite cultural tastes with wood and other natural raw materials widely used, such as rattan, bamboo, stone, bronze and brass, so dark wood furniture with some golden wallpapers and silk fabrics used locally and changes in lighting give off a sense of stateliness and luxury.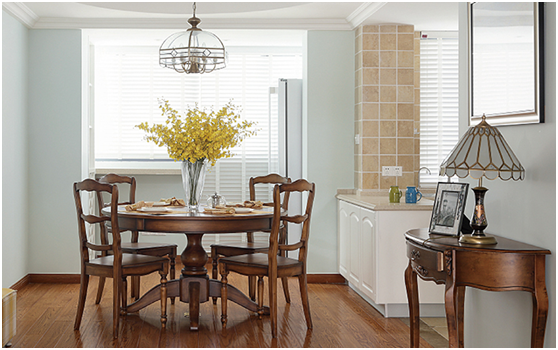 3TREES Granite Art Paint and 3TREES Simulated Holey Stone Art Paint give good expression to the quietness and elegance, freedom from restraint and refinement of Southeast Asian style.
3TREES Granite Art Paint
3TREES Granite Art Paint reproduces the noble and luxurious texture of marble with the loftiness and coolness of natural stone turned into elegance, which reflects the beauty of natural stone in interior decoration to the greatest extent.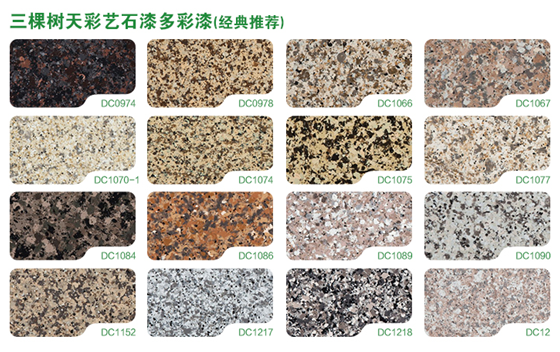 Compared with traditional stone, this product is characterized by anti-bacteria, mildew-proofing, high permeability, ordorlessness and environment-friendliness, enabling the house owners to enjoy the beauty of natural stone and the softness, breathability and comfort of interior decoration. In addition, the product features excellent flexibility and impact resistance, simplicity of application, light weight, and good safety, offering freedom of wall design and expression of individual spaces.
3TREES Simulated Holey Stone Art Paint
In 3TREES Simulated Holey Stone Art Paint is imbibed with the spiritual essence of natural holey stone, noble and elegant, naturally formed with a texture resembling natural stone and a strong sense of flowing rhythms. And the size and shape of the holes in each brick are different with obvious layers and full charm.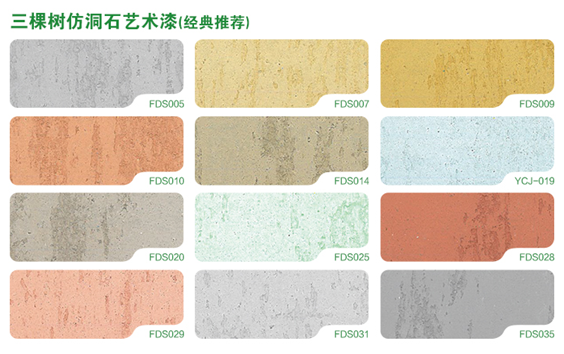 In addition, classicism and nobility are bloom in the paint to give off the truest natural effect as it does not feel cold as stone, but oozes a strong sense of entirety, and could seem seamless both on corners and columns. Also, the paint gives rise to healthiness and fashionable taste, economy, pragmatism and beauty for homes decorated.
VII. Mediterranean style
Products recommended: 3TREES Rilievo Art Paint, 3TREES Stone Art Paint
Mediterranean style for decoration is one of the most humanistic and artistic giving expression to the free spirit of Mediterranean decoration through a series of open and transparent architectural features, and the taste of yearning for and getting close to nature is embodied through natural materials. And freedom, naturalness, romance and leisure are the essence of Mediterranean style.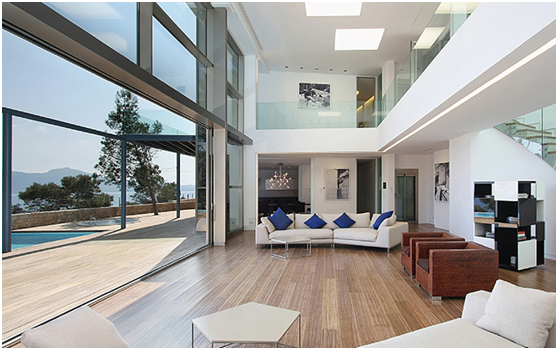 3TREES Rilievo Art Paint
3TREES Rilievo Art Paint is a wall paint that perfectly blends the touch of stone with fashionable colors. It can offer irregular retro textures for rich and layered tactile experience, bringing simplistic low-key luxury to walls and creating elegant, unique and tasteful home space for you.
3TREES Stone Art Paint
3TREES Stone Art Paint is a natural decorative material with the feel and texture of natural stone and its appearance as natural, stable and magnificent as such, and it is firmly attached with excellent air permeability, flexibility and impact resistance. Compared with decorative materials such as culture stone, it is more decorative, easier to clean and has better comprehensive performance, and is an ideal substitute for traditional finishing materials on interior wall.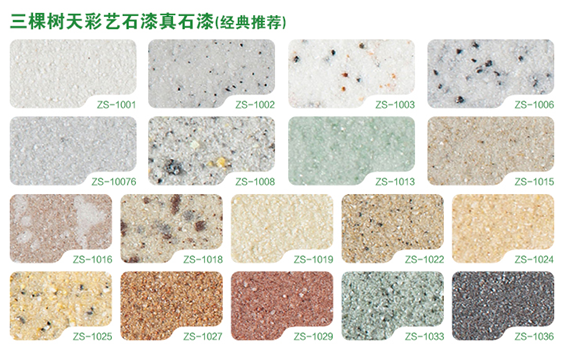 VIII. Japanese style
Product recommended: 3TREES Texture Art Paint
The term "Buddhist" has become popular on the Internet and has become a trend recently in China giving expression to young people's attitude of "no desire, no struggle, no joy in things, and no sorrow for oneself".

So Japanese style is the best expression of such an attitude towards life as it champions being fresh, natural, simple, clean, elegant and Zen-like to bring about a leisurely and carefree life, exactly measuring up to the kind of life pursued by young people.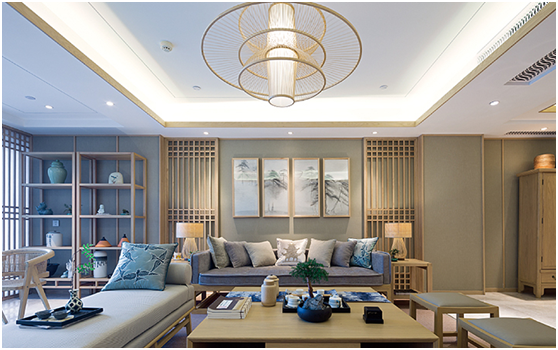 3TREES Texture Art Paint
For Japanese style clear lines are generally used, and its elegant and simple mixture of colors imbibes the layout of the living room with a sense of cleanliness. So 3TREES Texture Art Paint is a decorative material of natural texture and feel featuring natural colors, rich shapes and realistic textures, giving rise to clean and clear space, simple and exquisite design, cleanness and elegance.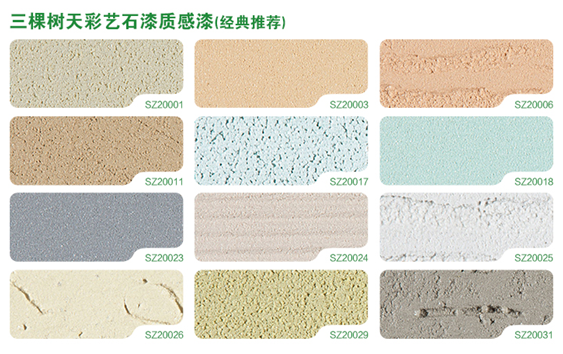 And by Japanese style a peaceful mood could be achieved with the most natural and simple materials. 3TREES Texture Art Paint, which is made of natural and environmentally friendly materials, features good adhesion, air permeability, flexibility and impact resistance as well as easy application. Hence it is an ideal substitute for traditional finishing materials on interior walls.
Find a place for retired life with someone until white-headed
For ideal living, a caring wife, and a good life
3TREES Engineering "exquisite decoration and beautiful life system"
Satisfy personalized demands in all aspects,
And guarantee a better life for consumers!